The rain can be therapeutic at times, and dangerous at others. Rain provides sustenance to our lives, allows plants to bloom, and can even replenish reservoirs. However, rain can also wear down materials causing them to rot as time passes. Materials used in your garage door are susceptible to rotting, which will gradually put your door out of commission. Thankfully, in this blog, we will discuss how to waterproof garage door, so your garage will never be affected by the rain again.
How Rain Can Affect Your Garage Door
Friendswood, Texas, receives a decent amount of rain throughout the year. When this rain comes, your garage door can be damaged, especially if you own wooden garage doors. These doors absorb water, which makes them prone to warping upon exposure. As a result, your garage door opener could have too much built-up stress and stop functioning properly.
Furthermore, the metal in your garage door, and other materials prone to rusting, might decay over time when exposed to water. The panels can be impacted by it, and your garage door opener might stop working too. Even during the wintertime, the rain on your garage will freeze over and shut your garage door.
How To Waterproof Garage Door
Before you can begin waterproofing your garage door, you need to inspect it to know whether there is an ongoing problem with your door. Are the weather seals damaged or properly sealed? Are there any cracks or dents? Does your garage door make a lot of noise when opening and closing? Once you get to the root of any issues you are facing, you can learn how to waterproof garage door accordingly.
Weatherstripping
Whether you need to replace your weatherstripping or need it in general, this will be a great way to waterproof your garage. To stop water from leaking in and keep heat and cold air from escaping, you should install weatherstrip seals on all sides of your garage door. Weatherstripping is simple to apply and is quite useful once it is installed.
Clean The Gutters
When your gutters become clogged, water that would typically be directed away from your home will instead fall onto it since you neglected to clean them. Your home's foundation and garage doors will both be impacted by a clogged gutter. Floods and water leaks can also be brought on by clogged gutters, which are especially problematic in the winter when the water freezes.
Add A Trench Drain
If there is a downpour in your area of town, things will get out of hand for your garage swiftly. Water will flow into your garage resulting in a flood, but not with a trench drain. A trench drain will carry water away from your garage, preventing any flooding.
Use Waterproof Paint
To ensure your garage door doesn't become affected by rainwater, we suggest applying waterproof paint to your door. This will come in handy if your garage is made out of wood, which, can easily become water damaged. However, if you want to take an extra step, you can replace your garage door.
Replace Garage Door
An old wood garage door may not do the job for you, but if you replace it with a vinyl garage door, it certainly will. With a vinyl door, you won't need to worry about whether it can withstand damp environments. These doors are the best option available to withstand a rainstorm or the gradual wear from rain over time.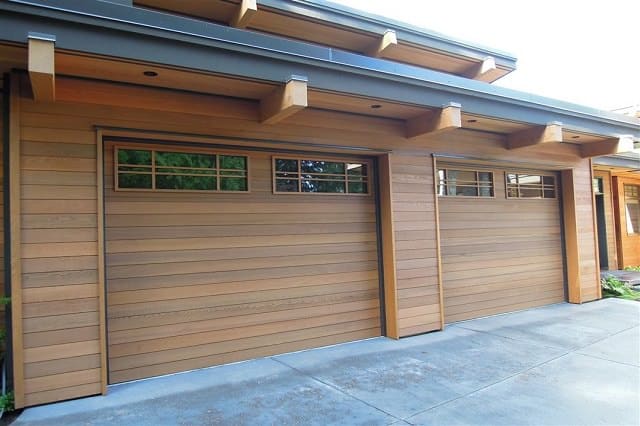 Call M.G.A Garage Door Repair
Now that you how to waterproof garage door, you can rely on M.G.A Garage Door Repair for any garage door services you need. Our experts can help maintain and repair your garage door with ease. Simply give us a call, and we will be on the job right away. You won't be disappointed with our top-of-the-line work ethic.